SloCountyWineries.com Newsletter -- January, 2009
Welcome to the first of what will be a monthly series of fun and informative newsletters, quickly highlighting stories and events involving the local San Luis Obispo County wine industry.
Talley's "Winegrower's Log" Keeps Readers Informed on Vineyard Conditions Year-Round
One of our favorite local web features is the "
Winegrower's Log
" over at
TalleyVineyards.com
According to the site, "The Winegrower's Log comments are from Brian Talley, Winemaker Leslie Mead, and Vineyard Manager Kevin Wilkinson about things happening here at the winery, in our Arroyo Grande Valley and Edna Valley vineyards, and in the vineyards around San Luis Obispo County, Monterey County and Santa Barbara County where grapes for Bishop's Peak wines are grown."
Here's a sample from the '08 harvest:
October 3, 2008
"We're now wrapping up the 7th week of harvest with a big push to get everything in before the rain that's predicted for tomorrow. We finished harvesting pinot noir yesterday. Our crews started at 3AM today with the goal to pick as much chardonnay as possible in our Edna and Arroyo Grande Valley Vineyards. After today, all of the East Rincon and Rosemary's Vineyards will have been harvested. We'll still have a bit of chardonnay, sauvignon blanc, and riesling remaining in both the West Rincon and Oliver's Vineyards. All of our cabernet sauvignon and cabernet franc are still on the vine in Hazel's Vineyard, but these thick skinned varieties generally fare well in the rain.

Overall quality looks very good this year with good flavor and high acidity. Pinot noir yields are below average for the third straight year, but the chardonnay crop is the best since 2005."
Paso's J. Lohr on NPR's "Fresh Air"
NPR's "Fresh Air" recently featured
Wall Street Journal
wine columnists Dorothy J. Gaiter and John Brecher. The two are also the authors of several books, including
Wine for Every Day and Every Occasion
.
The program, titled,
'Tastings' Columnists On What To Drink Now
, discussed, among other things, "the right wine for the right price."
According to the
Fresh Air
web site, "California has long been a reliable source of good wine, and Gaiter and Brecher have been fond lately of wines from the Bogle, Kunde and
J. Lohr
wineries."
You can hear/read
Fresh Air's
,
'Tastings' Columnists On What To Drink Now
, at
this link
.
L'Aventure's Impromptu Rave Review
It's fun to stumble onto some quirky notes that a visitor to SLO County's wine regions left on a message board.
Take this clip
from, "Quick Paso Robles Westside Trip Report," on the writer's
L'Aventure
experience:
"After a stop to buy yet another styro cooler (girlfriend starting to shake head) we stopped by the mad Frenchman Stephan Asseo's winery, L'Aventure. Stephan left France years ago when blends he wanted to try were forbidden by AOC laws. Eventually settling in Paso, many of his wines have received some heavy praise. I've heard the tasting room only pours a few wines at time, but I think that's just because they sell out pretty... quick. We visited at an opportune time, and tasted through everything. What struck me here was the balance. I think these were among the most balanced wines we had during our trip and wish I had brought more home. The highlight here for me was the 2006 Estate Cuvee – A blend of Syrah, Cabernet, and Petit Verdot. I lost my written notes for all the wines we tasted here, but from what I remember it was amazing."
Gourmet Fare Offered Daily at Cass Winery's Cafe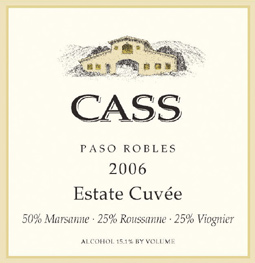 Cass Winery
is one of the few wineries in SLO County with a café that's open daily.
"We decided to experiment to see if people would be interested since we are quite a ways out on the wine country trail," owner, Steve Cass, told
New Times
.
Here's the Winter Menu:
Thomas Hill Farms Mixed Greens
Organic lettuces with blood orange vinaigrette

House Baked Demi Loaf
Served with Olio Nuevo extra virgin olive oil

Warm Spinach Salad
Fresh figs, Cypress Grove "Purple Haze" Chevre and crispy prosciutto, Roasted shallot balsamic vinaigrette

The Cass Crab Cakes
Maryland-style crab cakes, a house favorite! Served with house-made tartar sauce accompanied by a salad of baby greens

Tri Tip Panini
Roasted red peppers, caramelized onions and provolone, Served with mixed greens

Seared Ahi
Served with mango slaw, sea asparagus, and ginger sesame vinaigrette

Truffle Pizza
Thin crust and delicious

Chocolate Truffles
With cinnamon powder and chili
Entrée menu items range from $10-15, and are prepared by their house chef, Brandon McPartland. No reservations required. Café is open daily 12-4 p.m.
PHOTO OF THE MONTH -- CC Polo Club at Clautiere Winery
The Central Coast Polo Club "Wigs Out" at the famous
Clautiere Winery
tasting room.
When you stop by Clautiere's "Edward Scissorhands meets the Mad Hatter at the Moulin Rouge" tasting room (highly recommended -- great fun!), be sure to also check out Claudine (the "Clau" in "Clautiere") Blackwell's beautiful ironwork on display throughout the winery.
The girl can weld!
J & L Wines Adds More Solar Power
J&L Wines in Paso Robles, Calif., has announced the completion of a 46.4 kW solar electric system for its 28,000 square-foot warehouse. The system was installed by REC Solar Inc. of San Luis Obispo, Calif.
According to the companies, the new system will be used to power the warehouse's temperature control, electronic surveillance, and the computerized inventory management systems. "J&L Wines will generate about 70 percent of the facility's energy needs with clean, renewable energy from the sun and will reduce electricity bills by almost 75 percent," says Angiolo Laviziano, REC Solar's president and CEO.
This is the second time the management of the two companies have combined efforts. Previously, J&L Wines owners Lorraine and John Alban worked with REC Solar to install three solar electric systems at one of their other businesses, Alban Vineyards.
Featured Events
Valentine's Dinner at Opolo
: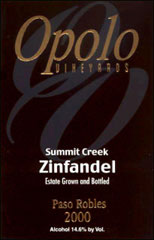 Join Opolo Winery, Saturday, February 14th at 6:00 pm for a cozy, romantic
Valentine's Dinner in Opolo's inviting Wine Cellar
.
According to Opolo, "Five delicious courses paired with some of our most fabulous wines. Dawn Lambeth and her incredible Jazz Trio supply the music and a whole lot of dancing takes place. Don't miss this one!"
For details and reservations: (805) 238-9593, or visit
Opolo.com
Valentines Day Dinner Double Header at Cass: 6:00pm - 10:00pm, Cost: 95.00, Location: 7350 Linne Rd, Paso Robles. Celebrate a double dose of Valetines Day, 2/14 and 2/15, at Cass Winery. "Let us take care of you while Chef Jacob works his magic in the kitchen."

###